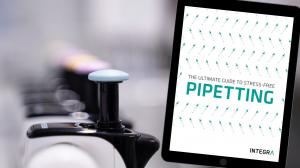 INTEGRA's latest eBook contains all of the tips and tricks to help readers achieve efficient, accurate and stress-free pipetting
ST NEOTS, CAMBRIDGESHIRE, UNITED KINGDOM, November 8, 2023 /EINPresswire.com/ — INTEGRA Biosciences is pleased to announce the release of a new eBook providing a complete guide to pipetting. Liquid handling protocols form the backbone of many life sciences workflows, and mastering correct pipetting practices plays a vital role in obtaining reliable experimental results.
The eBook aims to equip readers with the essential knowledge and skills to turn pipetting from a tedious, necessary task into an efficient, accurate and enjoyable part of lab work. It covers key subjects such as:

• An overview of different types of pipettes and how to use them

• Pipetting best practices

• Tips for maintaining and calibrating pipettes

• Application notes demonstrating how INTEGRA's range of pipetting solutions can optimize liquid handling protocols
This comprehensive eBook will be a useful tool for any scientist looking to achieve high accuracy and precision, even when handling more challenging liquids.
Get a free copy of the eBook here.
About INTEGRA Biosciences

INTEGRA Biosciences (https://www.integra-biosciences.com) is a leading provider of high-quality laboratory tools and consumables for liquid handling and media preparation. The company is committed to creating innovative solutions which fulfil the needs of its customers in research, diagnostics and quality control within the life sciences markets and medical sector. Today, INTEGRA innovative laboratory products are widely used all around the world. More than 100 distribution partners form a worldwide sales network providing responsive and competent services to customers. These distribution partners are supported by a highly motivated and experienced team of specialists at the company headquarters in Zizers, Switzerland and Hudson, NH, USA. INTEGRA is an ISO 9001 certified company.
– copy ends –
© 2023 kdm communications limited
Editorial contact for further information or follow-up
Emily Armiger-Welch at kdm communications limited, St Neots,
+44 1480 405333
email [email protected]
Originally published at https://www.einpresswire.com/article/666592002/achieve-stress-free-pipetting-with-integra-biosciences-new-ebook